Ashvale Contracting Ltd offer an extensive range of building services in support of projects at any stage.
Whatever you are looking to construct, Ashvale contracting Ltd can offer an extensive range of building services to support you. From new domestic or commercial developments to extensions, alterations and more. Our skilled team take pride in providing quality workmanship for all work we undertake. Below we have provided a general outline of the services we provide. We can provide references or arrange site visits on request so please contact us if you would like further information.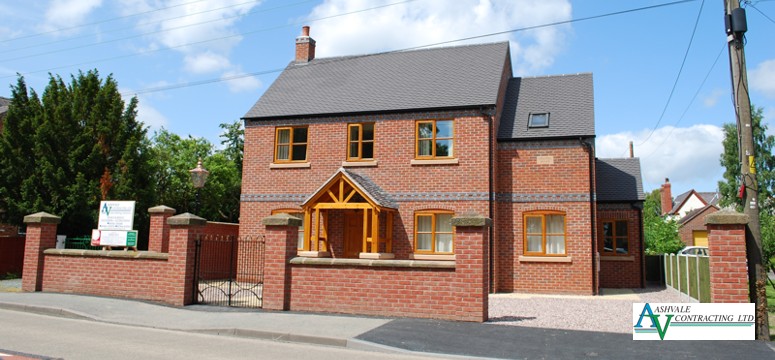 New Build
Whether domestic or commercial, residential or retail, we can provide quotes for new build and take care of your project from the groundwork to the rooftop.
Attic Conversions
Converting your attic can often provide the option of that much needed extra bedroom, office space or studio. Ashvale Contracting Ltd can design and build a solution that works for you.
Joinery
From timber frames to partitions and all areas of joinery, we have the skills to put it together.
Patios and Paving
Professionally laid patios and paving that look good and last.
Drainage
We will install local foul and storm drainage solutions that work.
Design and Build
With years of experience our team can take your ideas and turn them into approved designs before committing to work on site.
Alteration
We will carry out alterations to your property with the minimum of disruption and maximum care.
Renovation and Conservation
We have completed renovation of historic buildings and modern structures, every time with a sympathetic and professional approach.
Driveways
Tarmac, Concrete, brick paving or gravel, whatever you choose for your driveway we will lay it right.
Decoration and Finishes
Whether Tiling, Rendering, Plastering or painting, our high standard of building is matched by our finishes.
Extensions
A successful extension should look and feel like it has always been there. Let Ashvale Contracting Ltd help expand your property.
Landscaping
Often our work is not over until the grounds look as good as the buildings we erect on them.
Licensed Streetworks
When you need something done in the road we have a license to do it.
Mechanical and Electrical
We only use certified engineers for all electrical, heating and plumbing installations.
Our experienced team will provide you with professional services encompassing all those listed. If you need a related service or would like us to provide an estimate then please do not hesitate to contact us.